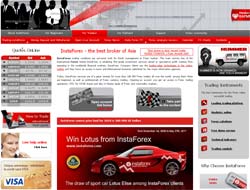 InstaForex Inc. This broker was established in 2007 and today has clients from over 50 countries all across the world. Forex trading is InstaForex main priority and therefore InstaForex emphasizes on bringing the best advanced technology for electronic access, fund transactions and fundamental broker business elements.
Member of the Group of InstaForex Companies Group InstaTrade Investment Company (registered in Russian Federation), has licenses on Brokerage, Dealing and Capital Management issued to "InstaTrade Investment Company" Ltd. (Russian Federation) on November, 2008 by The Federal Financial Markets Service. Licenses' numbers on Brokerage, Dealing and Capital Management Services are: 077-11737-100000, 077-11739-010000, 077-11741-001000.

InstaForex platform is a leading forex platform - MetaTrader 4 available via download. InstaForex platform lets you close forex transactions via direct access to world trading markets, get market quotes, top-notch forex market news and overviews, instant deposit/withdraw options and much more.

Demo account is available for beginners in trading market. It is very easy to set up and within seconds you will be on your way to practice your skills.

There is a great variety of real account options for forex trader. InstaForex brings great trading conditions for all traders, beginners or experts. Two trading account types are available. Accounts differ by their options for spreads and commissions.

Insta.Standard trading account requires as little as $1 deposit for micro forex, $100 for mini forex and $1,000 for standard forex. This is a standard trading account where forex trader gets access to all trading tools and pays fixed spread on each deal. There is no extra fee or commissions. Insta.Standard account is suitable both for beginners and advanced traders.

Another trading account option is Insta.Eurica account. There are no spreads whenever forex trader opens a deal. No matter what currency you choose from a variety of 32 pairs there are no spreads. There is a fixed fee to be paid to open a deal and it starts from 0.02 % of the trading volume. Both beginners and professional traders enjoy the clearer deal-processing system and trading characteristics of Insta.Eurica account.

Both trading accounts have the same trading tools and features.

Support is available via frequently asked questions, finance forum where real traders discuss their trading experiences and 24/5 consulting services where you can seek answers to your questions while trading. Technical support team is available 24/7.
With InstaForex you can be confident to get professional forex trading environment to help you make money.
Awards
Success achieved by InstaForex Company during last years was noticed not only by clients and partners but also by independent financial publications.
World Finance Awards 2009 - Best Broker In Asia
ShowFx Asia 2009 – Best Broker in Asia
ShowFx World 2009 – Best Broker in Russia

Trading conditions

Company:
InstaForex Inc.
On-line since:
2007
Country of origin:
Russian
Minimum lot size:
0.01 lots
Leverage:
1:1 - up to 1:1000
Spreads:
Insta.Standard:
3-7 pips on Major - zero commissions.
Insta.Eurica:
zero spreads - commissions: 0.03% - 0.07%
Minimum deposit:
$1
Payment options:
Webmoney, e-Gold, RuPay, Pay-pal, e-Bullion, Moneybookers, Yandex.dengi, Rubles Bank, WireTransfer
Internal Transaction
Avalable
bonuses:
Get a 30% bonus to your deposit
margin:
Margin for locks: 25%
Margin Call: 30%
Stop Out: 10%
Trading Plans:
Insta.Standard:


minimum deposit: $1
minimum lot: 0.01
max leverage: 1:1000


Insta.Eurica:


minimum deposit: $1
minimum lot: 0.01
max leverage: 1:1000

Languages:
Russian, Indonesian, Malaysian, German, Chinese, Iranian, French, Arabic, Portuguese, Latvian, Georgian, Turkish, Thai, Romania, Azerbaijani, Japanese, Spanish, India, Lithuanian, Polish
Contact:
Technical Support:
E-Mail: support@instaforex.com
Phones: 8-800-2000-791
Client Relations Department:
E-Mail: clients@instaforex.com
Phones: +7 (4012) 763-051
Finance Department:
E-Mail: eng.finance@instaforex.com
Phones: +7 (4012) 616265
Dealer Department:
E-Mail: dealer@instaforex.com
Phones: +7 (4012) 774-572
Website:
See InstaForex.

Advantages:
MetaTrader 4 trading platform.
13% interest rate on deposit.
Flexible leverage.
Wide range of funding options.
Islamic (no interest) accounts available.
Rich bonus system.
ECN execution available.
Trading in Forex, stocks CFD and commodity futures.

Disadvantages:
No important disadvantages